Welcome to Raymond's Auto Repair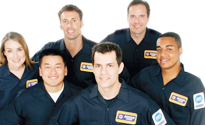 Raymond's Auto Repair has been providing quality car care in North Franklin, CT since 1995. We are a family owned business delivering honest and professional automotive repair and auto maintenance services to the people of North Franklin and surrounding areas. The quality ASE (automotive service excellence) certified technicians at Raymond's Auto Repair employ today's latest automotive technology and are equipped to handle all major and minor repairs on foreign and domestic vehicles.
Raymond's Auto Repair is a certified NAPA AutoCare Center, we are able to provide the benefits of an established national entity while maintaining the personal touch of a family owned business. We understand that your vehicle is a major investment, and that is why we care for each customer's vehicle as if it were our own.
Please be sure to go to our Shop Specials section for our current promotions and specials.
Come by and visit our clean and professional shop in North Franklin, Connecticut.
or at our full service body shop @ 174 Papermill road, Lisbon, CT
We are an auto and heavy truck repair shop in North Franklin, Connecticut providing the following services:
24 HR TOWING
after hours call 860-234-1180 or 860-942-2377
ROTATOR HEAVY LIFTING SERVICE
LT & HEAVY WRECKER SERVICE
FLATBED & LOWBOY SERVICE
WINCHOUT & RECOVERY
Complete Camper And Motorhome
Repairs And Accessories
complete general repairs on cars, light and med trucks
repairs and maintenance on heavy trucks and trailers
Welding Service Available (steel or aluminum )
Complete Body Shop ** Cars – Trucks Or RVs
Contact Information
Raymond's Auto Repair
892 Rte 32
North Franklin, CT 06254
Phone: 860.642.6792
Email: rarllc@hotmail.com
Raymond's Auto Repair
Full Service Body Shop
174 Papermill Rd
Lisbon, CT 06351
phone : 860.949.8224
Feel free to call or email us to schedule your next appointment.
Business Hours

Monday - Friday
8:00 AM - 5:00 PM

Saturday
8:00 AM - 1:00 PM

Sunday
Closed